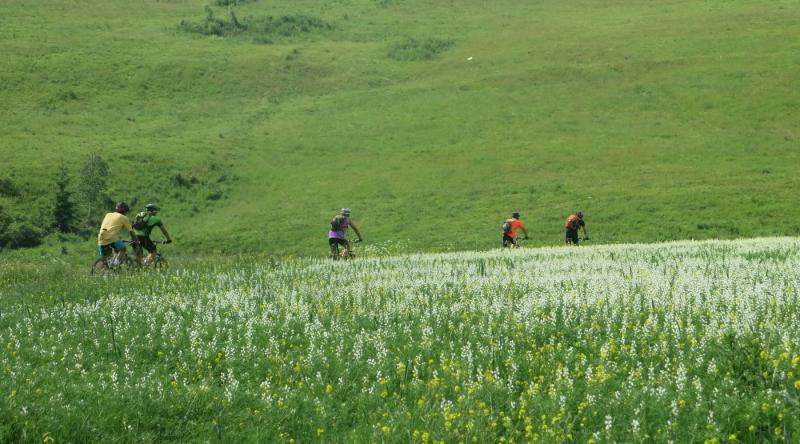 TOP Bike paths in Slovakia
Adventure Slovakia has organized more than 50 cycling tours in Slovakia since 1995. The bikers came mainly from abroad, many of them several times, we made every effort to choose new cycling routes. We have the following criteria: cycle paths in a beautiful landscape, away from traffic, interesting cultural monuments and special natural attractions on the routes, Jausestation with home food. We put together the most attractive cycling tours in Slovakia. They should also serve as a recommendation for cyclists visiting Slovakia on their own. It is all one-day bike tours from a starting point (round-trip), are hilly, suitable for touring bikes or MTB. We are waiting for your experiences from these bike tours. We also want to expand the list with new bike paths. Slovakia is a cycling paradise.
Small Carpathian bike path. Region: Mountains Male Karpaty-wide surroundings of Bratislava. Starting point: wine village Dolany. The route: Dolany (yellow mark) - Zabite (green mark) - Rybarian-Majdan-Losonec- Jahodnik- sedlo pod Veterlinom- vodna nadrz Bukova (Reservoir) - Plavecky Peter- Plavecky Mikulas- Plavecke Podhradie-Solosnica (yellow mark) - Pri obrazku - Sklena huta - Zabite Dolany. 47 km (6 km of dirt road) and 520 vertical meters. Hiking map Male Karpaty (Zaruby).
Around Sitno. Region: Stiavnicke pohorie. Starting point: Banska Stiavnica. Route: B.Stavnica - Stiavnicke Bane - Pocuvadlo - Badan - Klastava - Beluj - Prencov - Sv. Anton - Banska Stiavnica. Attractions: Old Town B. Stiavnica, Castle Sv. Antol, Tajche. 45 km and 530 vertical meters. Hiking map Stiavnicke vrchy.
Bike path Kamenista dolina. Regiom: Stolicke vrchy. Starting point: Cierny Balog. Track: Cierny Balog - Zavodie - Chata Kamenista - Sihla - Cierny Balog. Sights: forest railway, meanders of the stream Kamenisty potok, horse breeding on Sihla. 44 km (6 km of dirt road) and 470 vertical meters. Hiking map Stolicke vrchy.
From Black to White Waag (Cierny a Biely Vah). Region: Low Tatras. Starting point: Kralova Lehota. Route: Kralova Lehota - Svarin - Cierny Vah - Biely potok - Sunava - Strba - Vazec - Vychodna - Biely Vah -Kralova Lehota. Sights: Cierny Vah Reservoir. Cave in Vazec.49 km (4.5 km of dirt road) and 320 meters in altitude. Hiking map Low Tatras (Kralova hola).
Through Slovak Paradise. Region: National Park Slovensky raj. Starting point: Podlesok. Route: Podlesok - Glazka cesta - Male Zajfy - Stratena - Dobsinska ladova jaskyna - sedlo Kopanec - Podlesok. Sights: Ice cave Dobsinska ladova jaskyna, reservoir Palcmanska Masa. 45 km (8 km of dirt road) and 575 vertical meters. Hiking map Slovensky raj. Around Pieniny. Region:
Pieniny National Park. Starting point: Cerveny Klastor. Course: Cerveny Klastor - Velky Lipnik - Lesnica - Cerveny Klastor
Join us at any our bike tours.