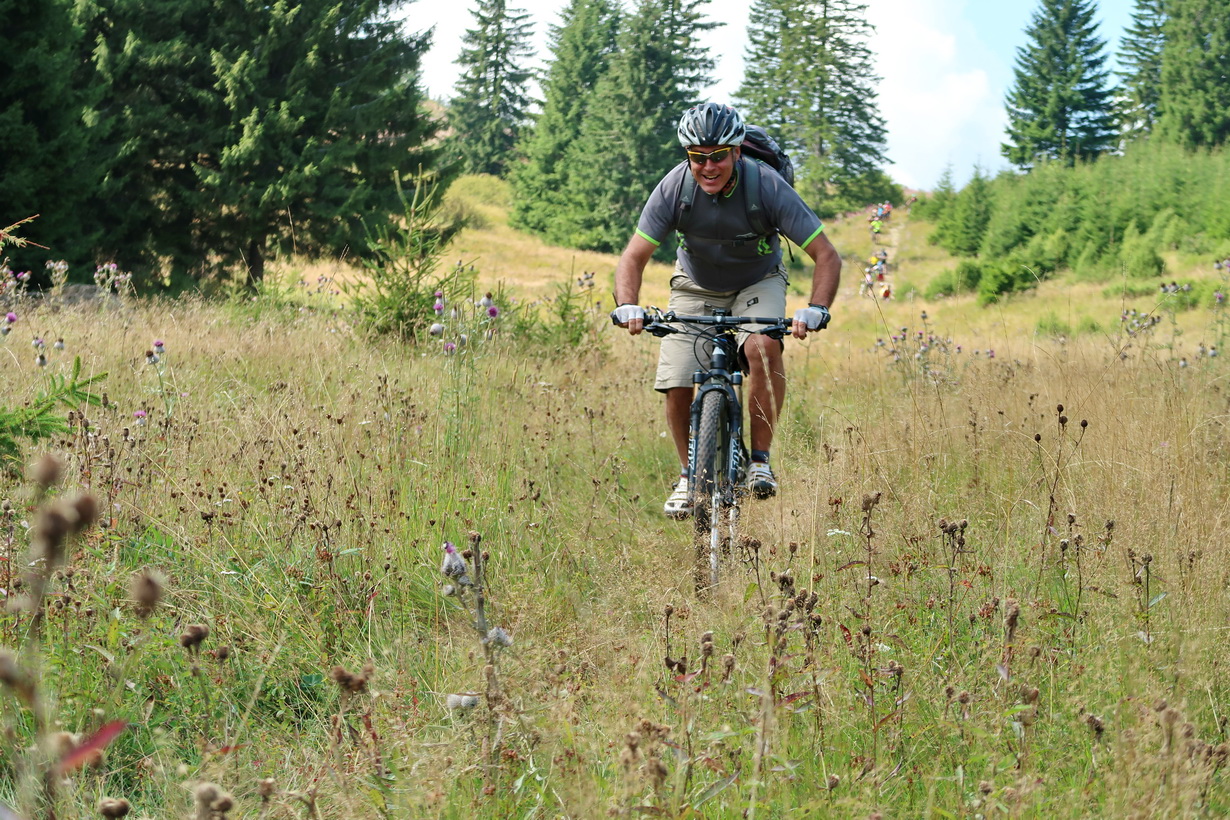 In the Slovak Carpathians you will find 9 national parks. The mountain scenery is includes rich forest and meadow paths. Major challenge for mountain bikers. Big part of the route is not marked. MTB-Guide is necessary. Our program includes tours of the oldest NP High Tatras, the greatest Low Tatras, Slovak Paradise, protects the remarkable plateau with deep gorges and one of the largest ice cave in the world and in the NP Muranska Planina with minimal people crowds. 

Every tour is different. They have in common many climbs and descents, romantic trails and run past many natural wonders and cultural attractions. Few Asphalt roads, many dirt roads and outsdanding single trails. Our trip plan is for mountain bikers in good physical shape, it also intended to give lighter alternatives. This means that even not trained Mountain Bikers are welcome. The tours run from 2 bases - Berghotel Telgart located in the Slovak Paradise and the place Liptovsky Jan (Pension Kristian, Sauna, Spa), located in the Low Tatras.

TOUR SCHEDULE:
Day 1: Arrival in Liptovsky Jan until 7 pm
Day 2 - Low Tatras and river White Vah.
We start from our guesthouse in Liptovsky Jan /634m/ with ascent in the valley Janska dolina around rocky hill Ohniste to saddle Svidovo /1133 m/. Beautiful views on steep walls of Dumbier /highest peak of Low Tatra,2041 m/. From the saddle follow a short descent, then again "offroad" up on saddle Crchla (1137 M). Then on meadows technical departure to Bergdorf Nizna Boca (855 m). Snack and sightseeing of the old folk architecture. A bit down on asphalt to enjoy long descent to Michalovo in Bocianska dolina. Then offroad up and down over saddle Skribnovo (945 M). Continuing along White Waag along. After 7 km we cross the lively brook, still slope with wheel pushes and we reach meadows above the village of Hybe. Still a lovely "offroad" section and we come by bike path direction Liptovsky Jan. That is also interesting. 59 km and 1103 meters of altitude.
Day 3 - High and West Tatras. 
Transfer to Popradske pleso zastavka (1240 m). We bike up to lake Popradske pleso (1500 m). Excellent panorama - granit hills of High Tatra. Downhill drive to Strbske pleso / sport center of HT/. Here lunch. On extraordinary magnificent singletrial Tatra magistrale we descent to Podbanske, where is end of HT. Here we cross the river Bela and join the MTB route Westtatra. On a great double and single trecks we cross to valey – Rackova dolina. From here beautiful cycle track to Liptovsky Jan 61 km and 1025 meters of altitude.
Day 4 - Kvačianska dolina - Choc MTB trail. 
Short transfer to Besenova (hot Springs) near riverdam Liptovska Mara. Through some steeper hills below the Choc Mountain range we reach the beginning of the narrow valley Kvacianska dolina. The sometimes rocky terrain will test our fitness and technical abilities. We are finally descending to the bottom of the gorge to the old mill (special culturual heritage site) Still a bit steeply high and then the landscape opens. In the lovely village Velke Borove - lunch break. Through meadows we reach the ridge of Skorusina. Behind us high mountains of the West Tatra, before us the solitary, imposing Choc Peak (1608 M). Beautiful MTB track to hotspring village Lucky. From here is not that far to Besenova. Short visit. 58 km, 1320 meters of altitude.
Day 5 - Valley Black Vah. 
This bike tour is long and leads to our second accommodation in Telgart (905 m). This place is located on the south side of the Low Tatras below Kings Peak (1998 M) and near the Slovakian Paradise National Park. We start in Svarin. The bike along the river Black Vah. We leave it soon and cycle through valley Benkovo ​​on saddle Dostianka (1235 M). An unforgettable view of the High Tatras and Low Tatras National Parks. Adventurous descent to mountain village Liptovska Teplicka. Short lunch break. After lunch we again discover the Black Vah valley. Still "offroad" to Vikartovsky mlyn. Gorgeous descent on asphalt and then again climb (gravel road) on the crest Kozie chrbty. We still have to take the technical route until we reach the marked bike path. That takes us to Spisske Bystre where our bus waits and drives us to Telgart. 71 km, 1425 meters of altitude.
Day 6 - Muranska planina, where horses graze freely. 
We start from our guesthouese. A mountain road takes us to pass Javorinka. Here we turn to big meadows and castle ruins Muransky hrad. Another forest trail leads us to Ladova jama with some ascents along hunters' huts. Pure nature and very quiet here. Then we cycle on an MTB road and single trails towards LowTatras. We continue to the mountain village Sumiac, we visit interesting bell Museum of an old shepherd with original folk music. Once more ascend. Visit of a gypsy settlement near of Telgart village. 63 km and 1198 meters of altitude.
Day 7 - Slovak paradise. 
Our last biking day is the highlight of the cycling week. This biking tour is star of all. This mountains are known for beautiful limestone deep gorges and kanyons. In Podlesok we swith to trekking shoes. Some mouteneering starts. Many ladders made of wood and iron, chains and iron steps allow us to get through the Canyon Sucha Bela in 2 hours. Our bikes are brought to the end of the gorge by bus. Then we cycle again on the single and double trail of mountain Plateu Glatz. A long (off-road) trail we descent to the dam Palcmanska Masa. From mountain village Stratena, demanding ascend again back on the ridge, mostly bumpy "singletrack" , than long downhill on a doubletrack back to Telgart. 81 km and 1385 meters of altitude.
Day 8 - Departure to home or by bus to Vienna. Stop in Bratislava. Lunch and sightseeing old town.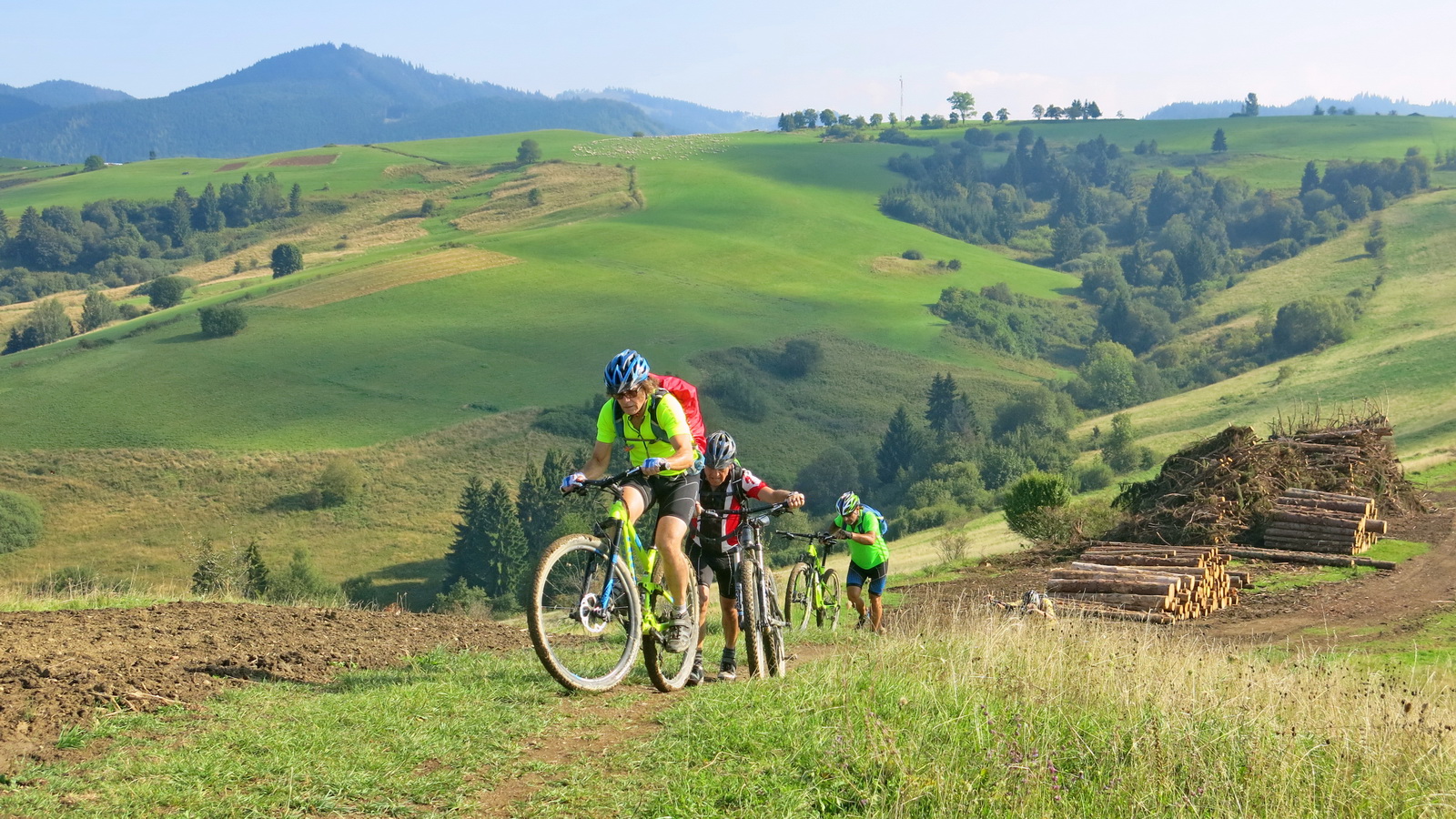 Highlights:
Mountain biking: 59 - 80 km, up 900 – 1450 m, unpaved and paved forest roads 90 % without traffic, 10 % very less traffic, Each tour has shorter alternation. Every day a local pub, restaurant or grocery store underway, One guide all time with us.
Cultural sightseeing's: Skanzen Pribilina, Castle in Liptovskz Jan, Church in Velke Borove, Bell museum in Sumiac, Old mill in Kvacany, 
Natural sightseeing: 5 national parks, Ice cave Dobsinska ladova jaskyna, Canyon Sucha Bela, Castle ruins Muran, Mineral springs and others …
Other highlights: Hot springs, sheepfarms, Carpatians horses, folk music, good Slovak kitchen and cheep, good beer.  Each day is different with nice adventures.
Requirements: good sport condition
Equipment: mountain bike, mtb-helmet, backpack or bike bag, Trecking shoes (for Gorge Tracking on day 7), Bike equipment, jacket etc.
Meeting point: Sunday, Liptovsky Jan (Pension u Rudolfa), at 18.00 PM CET
Our Services includes: 7x Bed & HB Meals (double rooms with shower), cycling guide, admission to cultural monuments, gift and insurance, diploma.
A minimum of 5 people