KANOE&RAFTING
We have omitted this year the Wild White Water Week in Romania. However we have reopened White Water canoing & rafting week in Tatras. This one week of adventure will amaze you with small wild rivers and stunning nature. Also with the Danube, we have remained faithful. The main river we leave to flow independently. In our inflateble boats you will enjoy paddling through the romantic arms of the Danube river. The biggest and most wonderfull Danube arms are Maly Dunaj in Slovakia and Mosoni Duna in Hungary. Both rivers are very similar. Danube water, full power, the lush vegetation, the jungle reminds like areas in which the turtle, ducks, water Hunsand herons lives.  Gravel beaches and water mills. Something for the nature lovers who are looking for peace and quiet, like swimming and love good food.
"My expectations were completely different. I did not believe that such a natural paradise is "only 60 km from Vienna,  the canoe lover from Vienna  Uta Leutner.
Our canoe trips are also for total begginers. The boats are canoes, inflatables. They are very stable and comfortable. We stay in a beautiful guest house in Halaszi (Hungary), which lies on the banks of the Mosoni Danube. Transfer to and concerned rivers is by our Minibus. Simply paddling without Competition.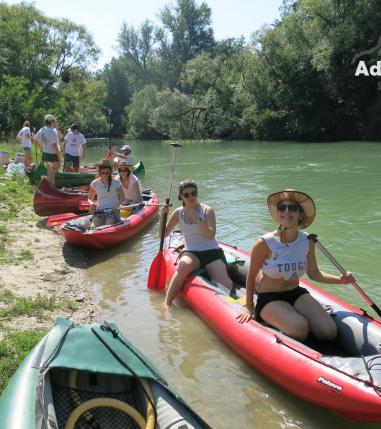 Canoeing Mosoni Danube
Canoe touring - every weekend from JUN to SEPTEMBER
Nord Hungary
Upon Agreement
Price: 85,- EUR
for 1day Tour, 2-Days tour: 135,- EUR