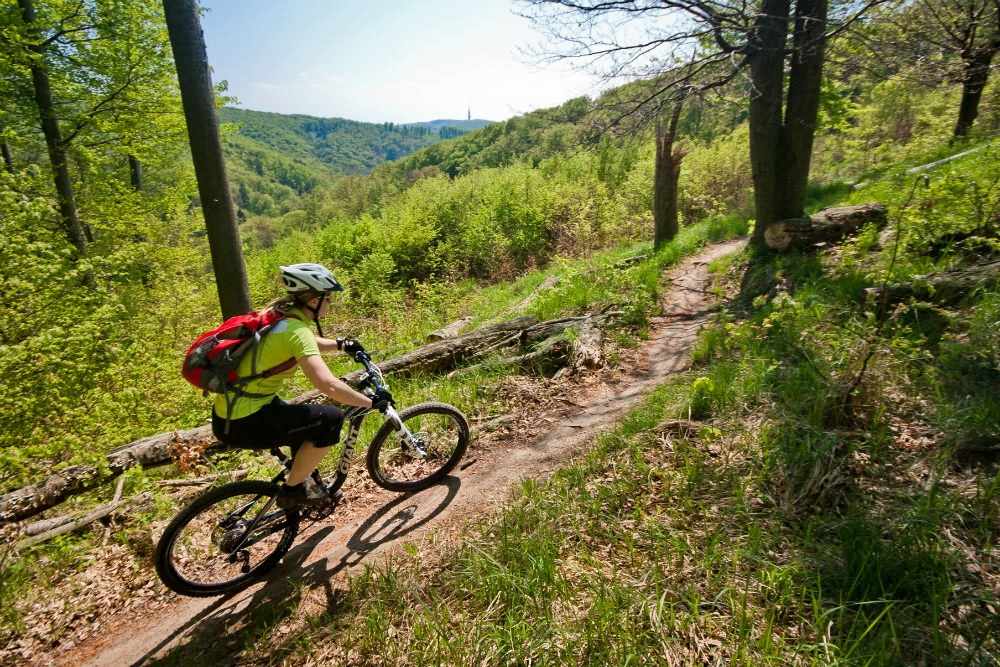 For MTB gourmets from neighboring countries and also for foreign visitors of the Slovak capital Bratislava we offer 1 - 2 day multi-faceted MTB program in the Little Carpathians. The long Carpathian arc starts from the shore of the Danube with this lovely mountain range. The ridge is 95 km long and stretches 450- 750 m in height. Dense and healthy beech forests, occasionally bright meadows, vineyards on the southern slopes and castle ruins on the north side, peace and quiet is the main characteristic of this romantic mountain landscape. There are not missing beautiful bike paths. The total length is 797 km. In recent years many breathtaking and safe single trails have been built here. More than 90 km. With our MTB guide really an experience for professionals and also amateurs. The choice (level of difficulty, length and altitude) of the bike paths is huge.
Tour plan (2 days):
Day 1: Harmonia - Plavecky hrad (round trip). This attractive MTB tour starts in the middle part of the Little Carpathians. From the valley climb on the ridge, with many hilly kilomter on the ridge, nice trail and some nice views, then down into the other valley, again on the crest and then beautiful descent. On the way 2 restaurants and other pleasant surprises.
Length: 35 - 50 km, altitude difference (850-1150).
Day 2: Bratislava Raca - Pajstun hrad (round trip). This tour takes place in the southern part of the Little Carpathians. It's all there. Comfortable climbs and various descents (single and double tracks). 3 x Jausestation. Visit of the castle ruins Pajstun.
Length: 35-55 km, altitude difference (800-1200).
Tour plan (1 day)
Bratislava Raca - Pajstun hrad (round trip)
Dates: daily by appointment (from April 15 to October 30)
Meeting point: hotel Pod lipou in Modra Harmonia 10.00 (2 days tour)   
Pivars Abel Bratislava Raca, ul. Pri vinohradoch, 10:00 am (1 day tour).
Equipment: MTB bike, helmet, small backpack with jacket, etc., bike rental also possible
Requirements: reasonable condition and technique
Our services include: nice overnight stay (double room) with breakfast (2 - day tour), guided tour, photo documentation of the tour, certificate.
Minimum number of participants: 2 persons (more than 5 persons reduction)