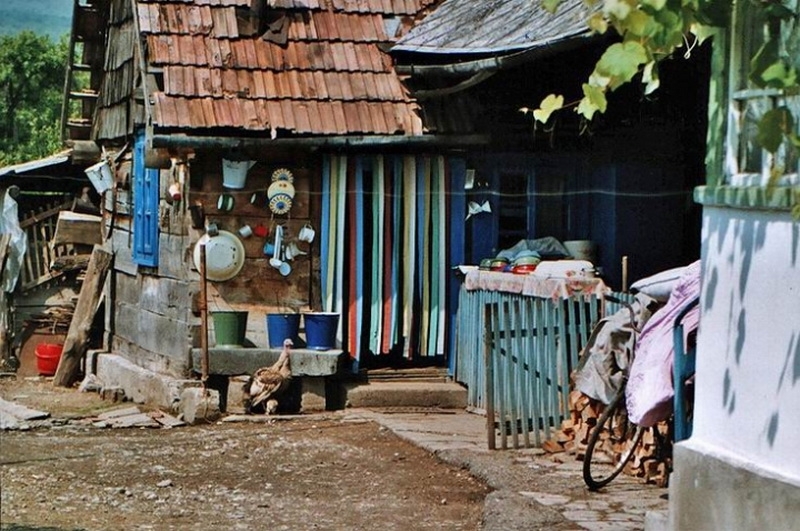 A trip to the Maramures is going to be a wonderful adventure in a beautiful landscape. It seems unbelievable that there are places nowadays where archaic folk customs are united with pure and overwhelming nature. The highest mountains of the Eastern Carpathian Mountains (National park and Unesco-Biosphere reserve) - the Rodna Mountains - are located in this region with old wooden churches and wooden carved doors. In the romantic and lonely high mountain region, where rhododendron grows there still live few shepherds. From the mountain ridges you can see the mountains of the Ukrainian Carpathians.
In the Maramures Mountains region there are two rivers located, Viseu and Iza, where you can go canoeing. In the unique cultivated land "water valley", the small train is the only transport opportunity, which originally was used for the transport of wood. You feel like you are set back to the times of Jules Verne! You can find also the strangest place of the world - the village Sápânta with its happy cemetery. Other highlights are the 300 m deep canyon Bicaz and the Red lake (Lacul Rosul), also called "murder lake", which looks very spooky when it is rainy or foggy. The small mountain range Cehleau with its bizarre buttes, which is unique in Europe, and the Bukovina - famous for its elaborate painted monasteries - are another highlights of the tour. The most beautiful monasteries are waiting for us - Moldovita, Suceivita and Voronez.
In Rodna Mountains we are going to complete 2 challenging high mountain tours and climb the highest peak Pietrosul (2.303 m). With canoes on the Viseul river we will get to the Ukrainian border. In Cehleau we will hike to the high peak Toaca (1.900 m), which is surrounded by fascinating chalk walls. We will have contact with the local people on farms and local taverns. We will lodge in 3 different guesthouses, each with breakfast included. A bus will be with us all the time.

Tour Schedule:
Day 1 (Saturday): Meeting in Halaszi between 14.00-15.00 clock. This place is about 15 km from the Austrian border. Accomodation in Pension Regia. Thermal spring in Lipot or walk at river Mosoni Duna. Canoe basics practice at the mosoni river. Dinner at Local seafood restaurant.
Day 2 (Sunday) : Bus trip to Romania. Departure 7.00 clock. 16:30 Visit to the happy cemetery and the wooden church in Sapinta. 18:30 Arrival at Viseu de Sus guesthouses.
Day 3 (Monday): Vf.Pietrosu (2303 m, the Stony). The highest mountain of Rodna. The most alpine area of ​​the mountain range. The scenic climb begins in the village Borsa (665 m), sweating we reach a little "Statie meteor" (Weather Station near the lake Lacu Izer). The summit is not far off from here. Descent over Carmalura Pietrosului over beautiful little lakes through the valley Buhaescu. On this tour waiting for us 1600 vertical meters, 1560 meters descent and 7.5 hours of walking.
Day 4 (Tuesday): Wild Water Canoeing on the river Viseu. We start with paddle mini course near the place Leordina. Then we will enjoy the ripples of the river in the romantic area. With a break and walks in Ruthenian villages. We finish the canoeing day in Valea- Viseul where river Tisza (Theiss) meets with ukrainian border.
Day 5 (Wednesday): Vf.Pop Ivan (1937 m). This mountain is dominant of the Maramures mountain range. The trek begins in ravine Cheile Viselui and continues through the valley Valea Repedea. This trek takes us in numerous rustic scattered settlements and isolated summer cottages in lovely countryside. Here is one of only a simple appearance, friendliness and Broken lock awareness. 1160 meters of altitude, 1050 descent, 7 hours walk.
Day 6 (Thursday): Bistrita river - Bicaz Gorge -Bergmasiv Cehlau. First by bus over pass Prislop to Vatra Dornei. From here, canoeing on the river Bistrita to place Chiril. Very lovely and nicely landscaped wild water tour. Canoeing about 3 hours. Then we will take the bus next to the impressive gorge Bicaz. The mountain range Cehlau (NP), referred to as "Olympus of Moldova" is not far off. Accomodation in Penzion Durau.
Day 7 (Friday): Vf.Toaca (1901 m). The world of limestone cliffs and rock towers. Start in Durau. Ascent is made below the rock formations Pauaghia, then through high cliffs land to the summit. Going down we stop at the hut Dochia, then watterfall Duruitarrae, lonely wooden church and finally village Durea. 1210 meters of altitude climb, 1200 descent, 7 hours walk.
Day 8 (Saturday): Moldovita river and Monastir the Bukavinaregion. By bus we arrive quickly at Moldovita. This river has its own character and is very quiet around in open countryside. After the tour we visit the world famous ancient delightfully painted Monastir. Bus ride to the Accommodation in Maramures.
Day 9 (Sunday): Watter valley (Valea Vaser). The 50 km long watter valey is a unique cultural landscape. A small railway line serving the timber transport, leads up about 47 km away. For the train lovers a large atraction. From the train station, we walk over by many meadows and mountain hills to Baile where the bus is waiting for us. Here we begin the return journey to Hungary with stop in Barsana (visit of the magnificent wooden church complex). Dinner and overnight bus ride, unfortunately.
Day 10 (monday): arrival in Halaszi. 8:00 breakfast. Journey home.
Reqirements: good sport fitness, some experience with canoeing or wild water rafting
Equipment: solid hiking boots, Climbing&hiking clothes inc waterproofs, gloves, hat, Treking sandals or old running shoes for canoeing.
Transport: BUS all the time from Halaszi and back.
Meeting point: Viilage Halaszi in Hungary, near Mosonmagyarovar (16 km from Austria border - Nickeldorf -  Hegyeshalom)
Our services includes: 8x accommodation with breakfast (double room standard), Bus transport all time, 2x German-English speaking mountain guides, tickets to all cultural sites, insurance, trail map, deed, present.
Minimum number of participants: 7-12 People.