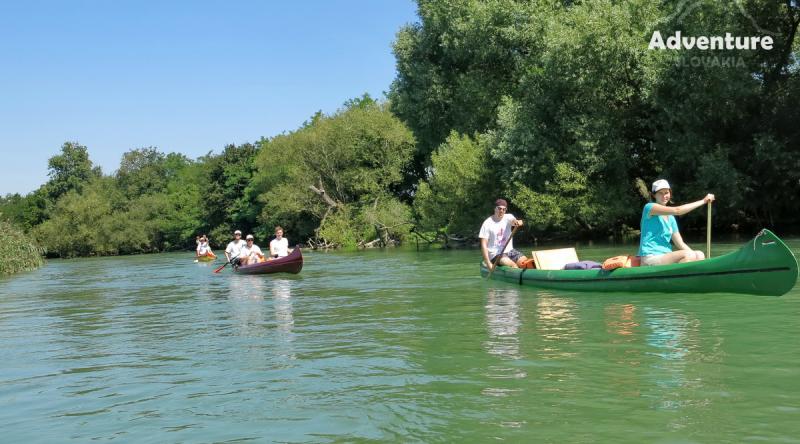 The river Mosoni Danube is a long arm of the Danube between Bratislava and Gyor. Clean water, a lively stream, lush vegetation reminiscent of the jungle, where the turtles, wild animals, water hunts, divers and herons have found their home. Gravel beaches and many romantic corners. A paradise for swimming and swimming. The canoeing is an excursion into the world of silence, love and cosiness. It provides a close contact with untouched nature.
"My idea was quite different. I did not believe that such a natural paradise is only 60 km from Vienna, "said Uta Leutner, a Viennese when paddeling on the canoe.
We use mostly the airboats. They are very stable and comfortable. Our canoe trips are therefore also possible for total beginners. The overnight stay is in Pension Regia in Halszi on the banks of Mosoni Duna. Trasfer to and from river with our minibus. Basically, we offer canoe hikes for 1 to 2 days. However, you can extend it or make a extra day trip in the DanubeArms or the Little Danube.
Tour plan (2-days):
Day 1: Rajka - Halaszi (22 km). Arrival in Halaszi until 9.30, first . Crossing to Rajka. Paddling time - 6 hours.
Day 2: Mariakalnok - Kimle (24 km). Paddling time - 6 hours.
Tour Schedule (1-day):
Rajka - Halaszi (22 Km). Paddling time - 6 hours.
Our canoe trip can be extended up to 4 days. Two canoe trips on Mosonidanube (Hungary), a tour on the Little Danube (Slovakia) and a tour in the labyrinth of the Danube Arms Szigetkötz.
Dates: daily upon Agreement (von 1.5. bis 15.9)

Equipment: Sandals for used in watter, Drinking Watter and little food bavarages. No shop or bar on the way.

Meeting point:

Pension Regia in Halszi

Our Services includes: Accomodation with breakfast. Canoeing Basic Training, Guiding, Transfers, Small Gift.

Minimum for the tour: 3 People.