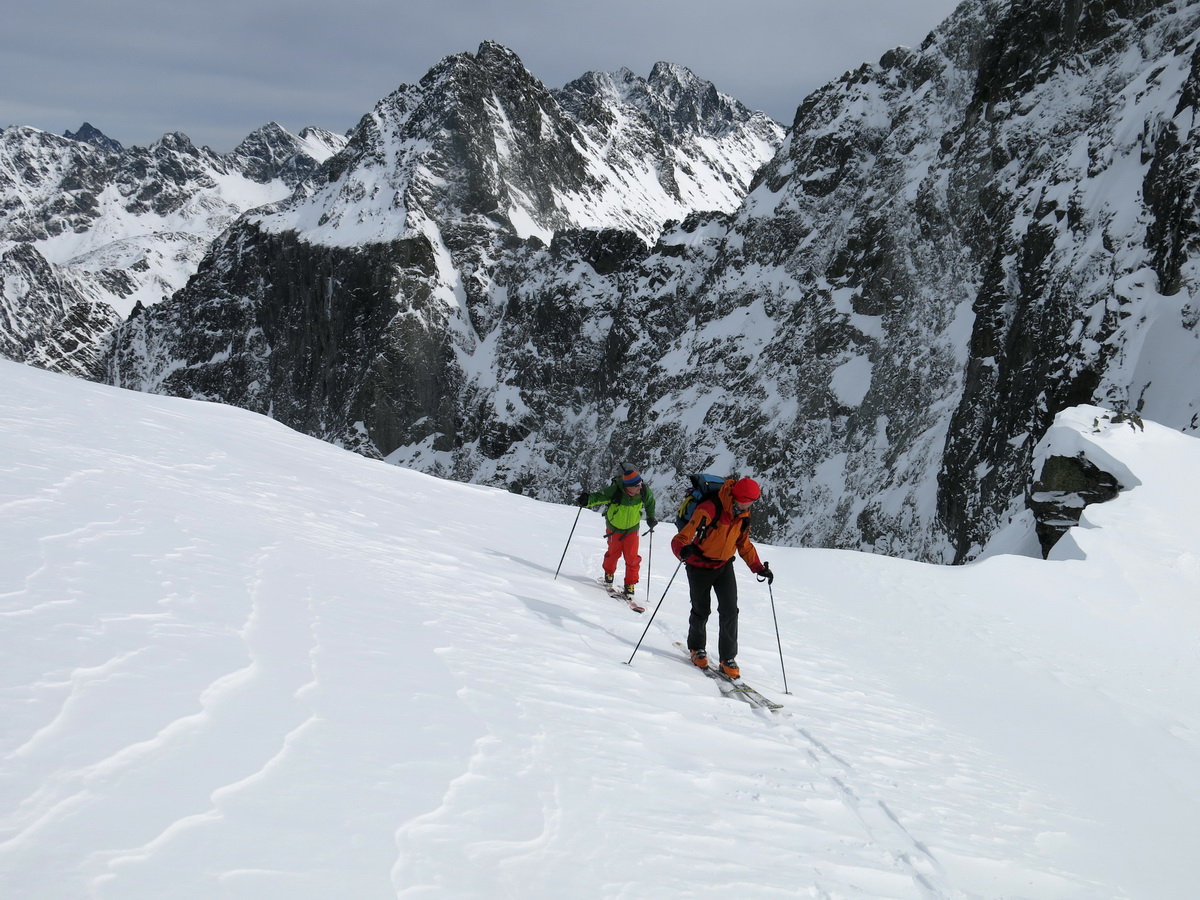 The skitouring and mountaneering winter trips in Tatra mountains dont have long tradition. The beautiful, steep-like and wild valleys are still deserted and mostly give snow guarantee. All mountain huts and cabins are open. The tour selection is great. Ideal alpine terrain for spring skiing. Great mountain scenery. Great summit ascents and descents. Enjoyment of skiing in the smallest high mountain range in the world - HIGH TATRAS.
Our Skitouring and Skimountaneering week in High Tatras we operate from 2 great mouintain bases (Popradske pleso 1500 m and Hrebienok 1265 m). Two huge valleys run off from both of the starting points. The tour selection is great. We will always start the skitours from doorstep of our accommodation. The advantage is also that all Tata mountain HUTS are open all year round. The ski tours are not extremely difficult, but require good physical condition and appropriate ski technique in every snow. The ski tour week can be extended by one day in the High Tatras or also in the Low Tatras (Skitouring Area Dumbier - Chopok - Polana).
TOUR SCHEDULE:
Day 1 - Sunday: Arrival to Popradske pleso (mountain hotel Popradske pleso). Parking in Strbske Pleso on guarded car park. From here with our ski guide with skis to Popradske pleso (5 km, 125 heights, about 1.15 hrs.) Meeting time according to agreement. Accomodation, dinner, presentation of the tour schedule.
Day 2 - Monday: Koprovsky stit (2367 m). This summit tour begins first in the valley Mengusovska dolina. It ends in the imposing mountain lake near Hincovo pleso. Here begins the actual ascent on the summit. To the saddle Koprovske sedlo (2189 m) is inclination 35 -39 °, difficulty S 2 + ,. Then terrain is gentler, inclination to 35 °. The last meters larger rocks. Departures mostly copy the ascent route. A total of 915m altititude climb. Additional alternative after departure to lake Hincovo pleso (1994 m): ascent to Volovcovo sedlo (2235 m) via the Frog Lakes and down to Mengusovska dolina valey. Inclination: 36 ° Difficulty S 3.
3rd day - Tuesday: Koncista (2535). This mountain belongs to the 25 TATRA PEAKS, which stand out over 2,500 m. In winter, this summit can be reached by means on touring skis without crampons. Open area. Always wonderful views. Climbing through Zlomiskova dolina. It is easy to get to the lake Ladove pleso (1925 m), then climb up to saddle Lucne sedlo (2168 m), inclination 38 °, difficulty S 3, then lighter slope 30 -36 °, almost identical to ascent route 1095 altitude meters. Additional alternative to Ladove pleso: Ascent to the Dragon Saddle (2243 m) and enjoyable descent to the Popradske pleso Lake (up to 40 ° C). Still before dinner visit the symbolic mountaineering cemetery, not far from our hut.
Day 4 - Wednesday: Rysy (2499 m) This mountain is the highest mountain in Poland. We return to Mengusovska dolina. After half an hour we turn right from the valey. We climb the first very lightly to Frog Lakes. Then comes second slope next to the frozen watterfall. Here crampons needed. Then gently to the Mountain cottage Rysy (2250 m). From hut to the saddle Vahy (inclination 38 °). From here beautiful panorama of the whole Slovak High Tatra. A little more with skies to the ridge, from there only a traverze to the summit. Without skis and with crampons. It is worth to stand on the summit. We also see the Polish side of the High Tatras. Total: 1020 altitude meteres climb. Departure the same route. The day does not end yet. We must move to BilikovaHUT. With ski to Strbske Pleso. Then with cars to Stary Smokovec (15 km). From there take the cable car to Hrebienok where our Bilikova hut is.
Day 5 - Thursday: Svistovy stit (2382m). From start direcly from doorstep of our new location Bilikova HUT. This peak is the foothills of the main ridge and is located at the end of the valley Velka studena dolina. A light but long ascent to the RobbersHUT (1985 m). Again nice and easy to the northern ridge of our mountain. Then it becomes steeper. Inclination 33 ° - 38 °, difficulty S 3. The descent is 10 km long and is skied over the culoar with name "General (35 °)", which falls from the Robbers HUT.
Day 6 - Friday: Through the saddle Priecne sedlo (2365 m) from valey Velka studena dolina to Mala studena dolina valey. This ski tour is the highlight of our ski tour week. Ascent begins again in Velka studena valey. To the saddle brings us steap culoar Strelecka kotlina 35 ° - 40 °. Down to Mala studena dolina leads a short channel with slope (35 ° -43 °). Then cozy to the TerryHUT (2005 m). From there still a so-called yellow channel (35 ° - 40 °). We stop at Zamkovsky HUT, which is already at the edge of the forest. Continue down the Great Waterfall to the original old HUT (Rainerova chata). Bilikova chata  is not far away. Total: 1035m of altitude climb.
7th day - Saturday: Ski trip to Stary Smokovec. Home or extension day in the High, Western or Low Tatras.
The tour program remains flexible (weather, snow conditions, avalanche danger)
Possible to add or extend for extra day :-)
In the High Tatras or also in the Low Tatras (Skitouring Area Dumbier - Chopok - Polana).
Requirements:

good Ski technique on every kind of snow and free terrain, good sport fitness, previous experience with skitouring or winter mounteneering

Meeting point: hotel Patria in STRBSKE PLESO
Equipment: Ski (Mountaeneering Ski with touring bindings), Helmet, Avalanche equipment incl. Avalanche tranciever, Ski Fins and adjustable ski poles, crampons, extra gloves, Thermo bottle etc
Minimum: 6 People.
Our service includes: 6xAccomodation with HalfBoard meal (double rooms), Transportation with in Tatra Tram and Funicular, Certified UIAGM guide, insurance, detailed maps, gift.
Extention Day: only 60 EUR ,-