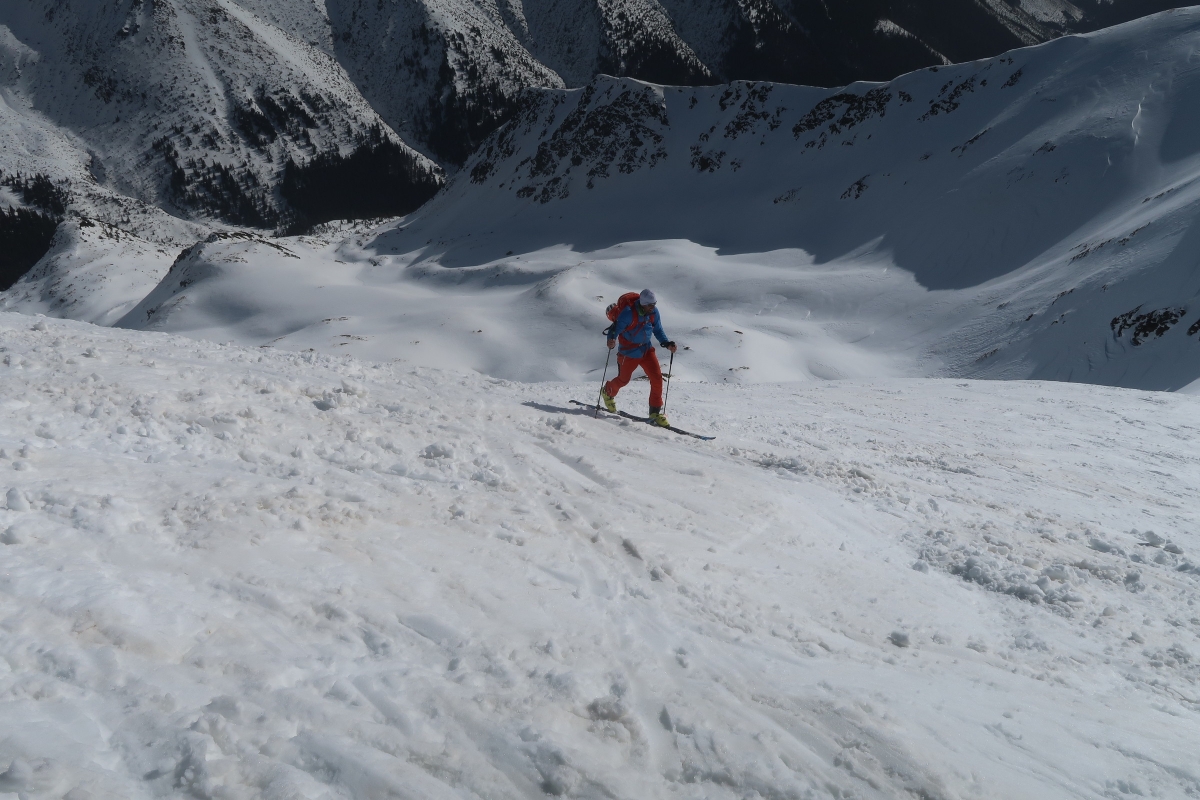 This is a backcountry paradise. Accesible and remote at one time. Not extreme though demanding. Boca valley in Low Tatras and Ziarska Tal in west Tatras provides very good snow conditions each winter and are ideal for skitourers looking for adventure in wild nature out of skilifts. We will follow the steep ridges or hig altitude meadows, make own offthe trek skipaths, visit mountain huts, reach peaks Dumbier (2050m) and Placlivo (2123m) and Hruba Kopa (2166m).
Our backcountry week in Low and West Taras we operate from 2 great mouintain bases (Nizna Boca 860 m and Ziarska Hut 1300 m). The tour selection is great. Most skitours starts from doorstep of our accommodation. The ski tours are not extremely difficult, but require good physical condition and appropriate ski technique in every snow. Suitable for begginers skitourers. The ski tour week can be extended by one day in the High , West Tatras or also in the Low Tatras.
TOUR SCHEDULE:
Day 1 - Sunday: Arrival to Nizna Boca. Meeting time according to agreement. Accomodation, dinner, presentation of the tour schedule.
Day 2 - Monday: Rovna Hola (1730 m). This is an easy aclimatization tour with a flat mountain summit. We begins first in the Boca Valley to Debnarikova and small saddle of Crchla. Than we steaply aproach to Rovna Hola on the north west ridge. Ski down to valley on the norh east ridge. (in total 950m of altitude climb) In the afternoon, still before dinner, visit of the tradional wooden houses of culturaly heritage village of Nizna boca, not far from our Hut
Day3 - Tuesday: Dumbier (2043m). Highest mountain of Low Tatras.  First 10 min drive by car to the highvillage of Vysna Boca. Ascent begins in Starobocianska dolina. First easily and flat than steap to the saddle Bocianske sedlo. (1500m) Then steap traverz to the main ridge and cozy to the Stefanik HUT (1740 m). From the hut about 45min 30 ° to the top of Low Tatras. Freeride back to the hut. Than small climb to Kralicka and again on the same path to Bocke sedlo. From here not steap but technical freeride to the valley. Total: 1160m of altitude climb. Alternatively climb to RovnaHola and ski down directly to the doorstep of our hut in Nizna Baca. Total: with alternative: 1390m of altitude climb. 
Day 4 - Wednesday: Kumstove (1650 m) This mountain is the Ascent begins again in Boca Valley Total: 1035m of altitude climb.
Day 5 - Thursday: Placlivo (2132m).  In the morning 35min drive to the Ziarska valley. First easy and long to the Ziarska HUT. Small break accomodate. Than to the saddle Ziarske sedlo brings us small culoar. Than steap on the ridge 35 °  to the peak Placlive. Great and unforgatable freeride back to the hut.
Day 6 - Friday: Hruba Kopa (2166 m) From start direcly from doorstep of our new location Ziarska HUT. Its not far to the peak of Hruba Kopa. Steap culoar and ridge. 35 °
7th day - Saturday: Ski down to valley. End of the tour.
The tour program remains flexible (weather, snow conditions, avalanche danger)
Possible to add or extend for extra day :-) In the High - West Tatras or also in the Low Tatras (Skitouring Area Dumbier - Chopok - Polana).
Requirements:

 good Ski technique on every kind of snow and free terrain, good sport fitness, previous experience with skitouring or winter mounteneering

Meeting point: pension Safran NIZNA BOCA
Equipment: Ski (Mountaeneering Ski with touring bindings), Helmet, Avalanche equipment incl. Avalanche tranciever, Ski Fins and adjustable ski poles, crampons, extra gloves, Thermo bottle, etc
Minimum: 5 People.
Our service includes: 6xAccomodation with HalfBoard meal (double rooms), Transportation with Skilift if needed, Experienced guide, insurance, detailed map 1:25000, special gift.
Extention Day: only 60 EUR ,-